Shlockbuster
on
June 12, 2013
at
5:00 AM
Other movies featured there are "Die Hard 8: Die Harderest", "Indiana Jones and the Walking Cane of Destiny", "Transformers 5: Optimus Prime versus Splosionbot", and "Land Before Time MCVII: Escape from Manhattan".
First and foremost, I'd like to give a shoutout to my cousin Brie who graduated Valedictorian of her class! Woo hoo! I'm super proud of you littl'un! Keep on rockin! It's weird, because I remember when she was amused by a Winnie the Pooh Kickball at my Grandfather's place and my mom telling me not to roll it too hard because she might fall over. This led me to believe my cousin was a human Weeble. I was incorrect in this assumption.
I'd also like to give a nod to two gents with webcomics who passed my gauntlet of trials. First of all is the gent who did that great Fifth Panel Guest Art last week and creature of the hilarious webcomic Zombie Oaks, the man with one of the most rock and roll names ever, Axton! You should check out Zombie Oaks (not exactly kid friendly. Sorry.) because he has some seriously good stuff!
Second is the super talented beast of an artist and curator of the fabulously bizarre Z & G! It involves a zombie and a ghost and more recently a Crow-quoting giant rat beast, so that was cool. Also, Geist has a pompadour to end all pompadours. It's not fully kid friendly, though. But it is worth a look as well.
To get a reference from me they needed to face my gladiator-like challenges of cunning and worth and naming of who these characters I drew were: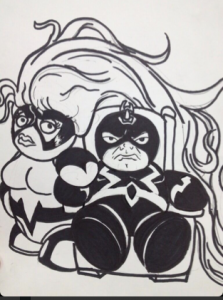 It was mainly because I was wondering if I was as hopelessly dorky as I thought I was. So I picked two characters who seemed decently well known, but could prove tougher for some, drew them, and asked my Twitter bros if they could name them. 200 some odd followers and I got two responses. So congrats you two! You guys are just as horribly nerdy as I am! So even when you win, you lose I guess…
Anyway, things are going decently. No real progress on the finding-a-house-because-our-landlord-is-a-jerk front but we're house hunting today so we'll see how that goes. Anyway, I'm going to work now. Lookin forward to playing some Left 4 Dead 2 with my Dad In Law tonight in his newly rennovated, but still cat fur logged, man cave. If you don't get a post on Saturday, you can assume I suffocated with a smile on my face and my game avatar pounced by a Hunter or something.
Thanks for the massive amount of views on Saturday!! It beat my best traffic score by double! You guys are great! Keep up telling folks about Ninja and Pirate and getting them to read it and I'll keep making them! It's this kind of growth that allows two comics a week! Don't forget to like the Facebook page and follow me on Twitter (@ninjaandpirate) for all the latest weirdness and updates from the Ninja and Pirate universe! Keep on keeping on folks! I'll see you Saturday!
-Joe